Did you know that 91% of successful data breaches started with a spear-phishing attack?
Find out how susceptible your employees are against phishing emails, ransomware, and other cyber threats.
IT pros have realized that Phishing simulation plays the most important part in a cybersecurity awareness training module as an additional security layer. Today, training your employees to distinguish legit emails from socially engineered emails is just as important as having an antivirus and a firewall. It is an effective cybersecurity best practice to patch your last line of defense: YOUR EMPLOYEES
If you don't do it yourself, the bad guys will.  This Phishing Simulation gives you a quick look at the Cybersecurity Awareness Level of your employees.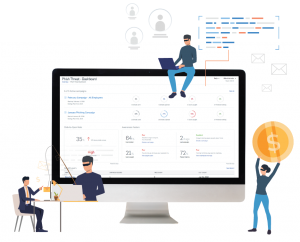 Here's how our Phishing Simulation works:
INTERNETNOW TEKNOLOGI SDN BHD 200601001742 (721490-W)
2F-18 & 19, Pusat Perdagangan IOI, Persiaran Puchong Jaya Selatan,
Bandar Puchong Jaya, 47100, Puchong, Selangor.

Phone&nbsp: +603 - 8075 2050
Fax&nbsp&nbsp&nbsp&nbsp&nbsp: +603 - 8075 2686
SECURITY AWARENESS TRAINING
Copyright © 2019 InternetNow Teknologi Sdn Bhd and Security AwarenessNow! software. All rights reserved.